Glen Abbey Community Centre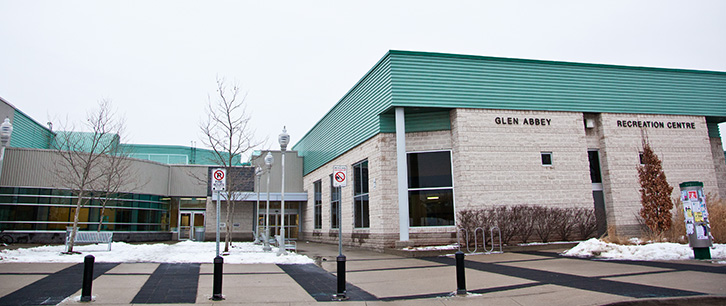 1415 Third Line
Oakville, ON
905-815-5950
Hours of Operation:
September to June
Monday to Thursday: 6 a.m. to 10:30 p.m
Friday: 6 a.m. to 9 p.m
Saturday and Sunday: 8 a.m. to 7 p.m.
Glen Abbey Community Centre boasts a variety of activities to take part in including fitness classes and programs, recreational skating, recreational swimming, squash, and a library. The facility includes community rooms, a double gym, a twin pad arena, pool, and fitness centre. There is also a snack bar on site.
Facility Information:
Aquatics
Glen Abbey offers swimming lessons and specialty programs for all ages and abilities, recreational swimming and drop-in waterfit. Glen Abbey pool is available to rent and can include use of the waterslide and refreshment room.
Pool features include:
25-metre, four-lane leisure pool
Conversation pool
Sauna
Water slide
Wheel chair accessible ramp into the pool
Stair access to the pool
Capacity of 150 people
Community centre rooms and gymnasia:
Glen Abbey Community Centre has the following rooms and gymnasium available for rent. For more information about bookings and availability, please visit the community centre rooms and gymnasia rentals page.
Community Room A: Large rate, holds approx. 60
Community Room B: Medium rate, holds approx. 40
Community Room C: Medium rate, holds approx. 55
Mezzanine: Small rate, holds approx. 15
Gymnasium: Double rate, 56 by 93 feet
Fitness and Recreation:
Glen Abbey Community Centre offers a wide variety of fitness programs including fitness classes, group cycling, fitness assessments, personal training and nutritional counseling.Visit the drop-in fitness schedule page.
The facility features a sprung wood aerobics floor, cardio equipment, circuit and weight training equipment, a pool, and squash and racquetball courts. Members can book a squash court online by logging in to the tool at the top right of this page.
Child minding is available Mondays, Wednesdays and Fridays from 8:50 to 11:15 a.m., and Tuesdays and Thursdays from 8:50 a.m. to 1 p.m.
Purchase a membership, attend a drop-in program or register for a class today!
Ice Oakville's arenas boast a variety of on-ice activities including classes and programs, recreational skating, Oakville Hockey Development programs, the Oakville Recreational Hockey League, and rental opportunities.
Ice facilities at Glen Abbey Community Centre include:
Blue Rink, 190 by 85 feet, capacity 160 on ice
Green Rink, 190 by 85 feet, capacity 160 on ice